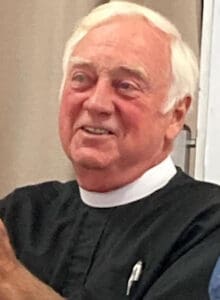 The Rev. James Sprague
Transitional (Interim) Priest
After graduating from Hobart College, Jim+ developed a sailing business out of Camden, Maine. From this beginning, he transitioned to being a candidate for Holy Orders from the Diocese of Maine. A graduate of the General Theological Seminary, he was made a Deacon and ordained a Priest over 40 years ago.
His ministry has focused on Episcopal Schools and shepherding parishes through the transition process. This ministry has taken him from schools in Massachusetts to Florida to Dallas and several points in between. He came west after floating out of New Orleans (where he was Dean of Religious Life at the Diocesan School) with the subsiding waters of Katrina. 
Since then, Jim+ has served several transitioning parishes in the Diocese of Los Angeles, including St.Matthias, Whittier; St. Paul's, Ventura; and St Peter's, Santa Maria. All this is while being the "WinePriest" at Trader Joe's in Santa Barbara, where he and his wife are happily ensconced.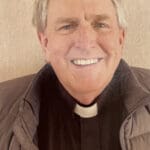 The Rev. Deacon Paul Eustace
Deacon
 Paul is a cradle Episcopalian who was born and raised in the San Francisco Bay Area. He left the church prior to joining the military, but his journey brought him back many years later. His rector saw unrealized potential in him and convinced him to pursue this calling, leading him to attend the School for Deacons in Berkeley. 
Following three years of study, he acquired a Bachelor in Theology and was ordained a Deacon in June of 2005. He found fulfillment in that time by volunteering as a hospice chaplain at the VA in Palo Alto for six years. 
His job brought him to us in September of 2010, and he has served here faithfully ever since. He enjoys eucharistic visits, jazz, folk, and bluegrass music, and reading when he has the time. He also has two very energetic puppies that he cherishes.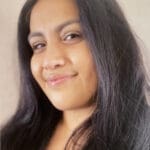 Veronica Gasca
Administrator
 Veronica became St Mary's Office Administrator in 2019. She previously worked for a local insurance agency. Born in El Centro and raised in Lompoc, she graduated from local schools and continued her education online, studying computer programs.
She is fully bi–lingual in English and Spanish."Being in the front office, I make an effort to listen attentively when someone is speaking: church members, visitors, workers, vendors, and contractors."
Veronica enjoys our local beaches and walks with her family.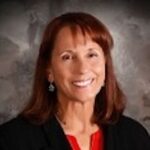 Mary Sharp
Treasurer
She is a lifelong resident of Lompoc, having arrived here as a toddler when her parents were transferred to Vandenberg AFB. Her family became members of Saint Mary's Parish in the mid-1970s.
Fr. Stu Fitch officiated Mary's and Buck's wedding in the Church in the Walnut Grove, and her children were both baptized here. Mary is an avid baseball fan and spends her weekends with her husband Buck, traveling across California and supporting her grand-girls and their softball teams.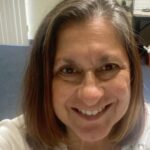 Dina Brown
Bookkeeper
Dina has over 20 yearsof experience as a local high school bookkeeper and registrar and worked for 12 years in banking. She had her Confirmation at St.Mary's under Fr. Stuart Fitch 47 years ago and has enjoyed the past two 1/2 years as St. Mary's Bookkeeper. 
She is married with two sons and a stepson,two wonderful daughters–in–law, and four beautiful grandchildren.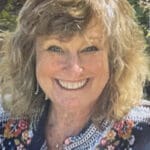 Heidi Holsambeck
Sunday School Coordinator
Heidi has lived in Lompoc since 1980, when she was stationed at Vandenberg AFB. She graduated from the University of Central Arkansas in physical therapy in 1977 and received her Master's Degree in Hospital Administration from Chapman University in 1989.
She spent 21 years as a Physical Therapist in the Air Force and retired in 2001 as a Lt.Col. She continued to work as a physical therapist for her good friend at Carnahan Physical Therapy until age 60. She has been married to Rob for 35 years and has three daughters, Kirsten, Kassandra, and Amanda, and six grandchildren that keep her busy. 
Heidi is a cradle Episcopalian whose children grew up at St Mary's and has worked here with many amazing volunteers for years. She took several years off to concentrate on family but has returned to Sunday School with love in her heart and an eagerness to share God's Love with the children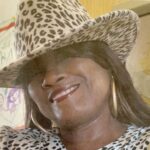 Gloria Griffith - Montague
Nursery/Toddler Supervisor
Miss Gloria (as the children call her) has been developing connections with and caring for the children of St Mary's for the last 23 years, in some cases lasting through multiple generations. She is working right beside us as we restore our Sunday School program, providing loving care for the littlest of our parish.
Gloria came to Lompoc from Chicago. She has been married for 47 years and has six children. She taught at USCB in the Infant/Toddler Preschool program and has volunteered for a long list of family, health, and arts organizations since coming to Lompoc. She was nominated for the Lompoc Peace Prize and the Vision Award (including a Congressional recommendation letter). 
She is active in Club Arcturus, a social–civic club for African Americans, where she has served as President several times over the last 20 years. She also serves on the Dr. Martin Luther King Committee.
Vestry
The Vestry at St Mary's swathes kept everything together during the challenging times of the world COVID pandemic (2020–2022) that changed us all forever. This is a dedicated, multi-generational group of individuals from many backgrounds, some with a long history with the parish and some relatively new. They have sought to discern, most recently without a rector, what the parish is called to do, make important decisions, and have oversight of that work.
Patrick Roell–Senior Warden
TomGerald–Junior Warden
Stewart Johnston–Vestry Clerk
Vestry Members: Norma Anderson, DJ Barber, Bonnie Dunlap, Jeanne Johnston, Jeanne Kendall, LisaKuzma–Crick, Lynn Maxwell, Sheryl Murray, Ron Pace, Michelle Pittenger.